Throughout our existence as human beings, we have been creators, bringing forth new things into existence. From the earliest moments of life, everything we have created can be considered a product. The concept of "bringing something into existence" can be traced back to the late 1500s, with the word "producen" meaning "bringing forth" in etymology. Today, whether you're a marketing professional for a dairy company or a data analyst for a SaaS company, I am here to provide insights on how to effectively market the products your company brought forth: and the first step is to understand your product's features and find what gets the attention most.
To find the most effective features, what we need is a summary from the ones who tried our product, a.k.a. "customers." In this blog piece, I will demonstrate how you can generate a highly effective list of product features in just a few minutes by utilizing your customer reviews, which will help solidify your brand's identity and allow for seamless outreach to potential customers. Highlighting your product features will help your company to:
Differentiate: By highlighting unique features, a brand can differentiate itself from competitors. This can help the brand stand out in a crowded marketplace and attract customers who value those specific features.
Unleash the value prop: Emphasizing features can also help communicate a product's value proposition. For example, if a product has advanced technological features, highlighting those features can communicate that the product offers superior performance or convenience compared to similar products.
Find specific customer segments: Emphasizing certain features can also help a brand target specific customer segment. For example, if a product has eco-friendly features, emphasizing those features can appeal to environmentally conscious consumers.
Increase perceived value: Emphasizing a product's features can also increase the perceived value of the product. By highlighting unique or desirable features, customers may be willing to pay more for the product.
After detailing the process, I will furnish you with some example outcomes. However, if you can't wait to see the results, feel free to scroll down!
First and foremost, Kimola Cognitive is an exclusive text analysis platform globally that can automate the production of compelling marketing materials using your customer reviews. With that said, let's get prepared to embark on an exhilarating journey!
Let's get started with a step-by-step guide on how to use Kimola Cognitive to create a product feature list by leveraging GPT-4 technology. Here are the steps you need to follow:
1- Sign up to Kimola Cognitive in less then 3 minutes
Sign up for a 7-day free trial of Kimola Cognitive at kimola.com/cognitive. It's worth noting that you don't need any coding skills, and we won't ask for your credit card information (initially)!
2- Scrape your customer reviews
Gather your customer reviews in an Excel sheet. If you don't have a tool to accomplish this yet, no problem! Kimola Cognitive offers a free browser extension that can extract reviews from a variety of platforms, including Amazon, Yelp, and G2. Check out our YouTube tutorials to learn how to set it up.
3- Simply drag and drop your excel to the dashboard.
If you already have an Excel file with customer feedback, simply drag and drop it onto Kimola Cognitive's dashboard, follow the prompts, and then select the "Product Feature Generator". That's all! Kimola Cognitive will evaluate your data, collaborate with GPT model, and create a list of ten product features that take into account positive content for your marketing and sales strategies.
Why might this approach be preferable to creating a product feature list directly with Chat-GPT?
Although Chat-GPT is a powerful tool, its performance is dependent on having the appropriate input. In contrast, Kimola's technology is specifically designed to analyze text and use natural language processing to extract critical insights from customer reviews. This would be a challenging and time-consuming process if done manually, but Kimola makes it effortless by sharing the analysis with ChatGPT. The combination of Kimola's technology and GPT provides several benefits to businesses, such as:
Provides a more customer-focused approach: By analyzing customer reviews, this approach is more likely to highlight features that are important to customers, rather than just a generic list of features generated by Chat-GPT.
Saves time and resources: Manually analyzing customer reviews to identify important features is a time-consuming task that can take hours or even days. Using this approach can save considerable time and resources.
Helps to identify unique selling points: By analyzing customer reviews, this approach can help to identify unique selling points that make a product stand out from its competitors.
Provides a data-driven approach: By analyzing customer feedback, this approach provides a data-driven approach that is more likely to produce effective and relevant results.
Results
I will share my complete experience to assist you in obtaining the maximum benefit from this post. So, let's get started!
The First Case
Brand: Nintendo Switch™ with Neon Blue and Neon Red Joy‑Con™
Review details: Scraped 1000 customer reviews from Amazon.com
See and download all customer reviews free: Kimola's Github
To give you a sense of what people think, here's a sample of reviews:
To collect the customer reviews, I have utilised Airset Generator, which is Kimola's browser extension that automatically scrapes customer reviews from various platforms like Amazon, YouTube, and Google. After the scraping process was completed, I could easily upload the dataset to the Kimola Cognitive dashboard and choose the column with the customer reviews.
After selecting the "Content" column, I proceeded to the models page; the sentiment and e-commerce classifiers are highly recommended for e-commerce customer reviews, if your data is related with any of these ready-made classifiers, I'd advice you to choose one: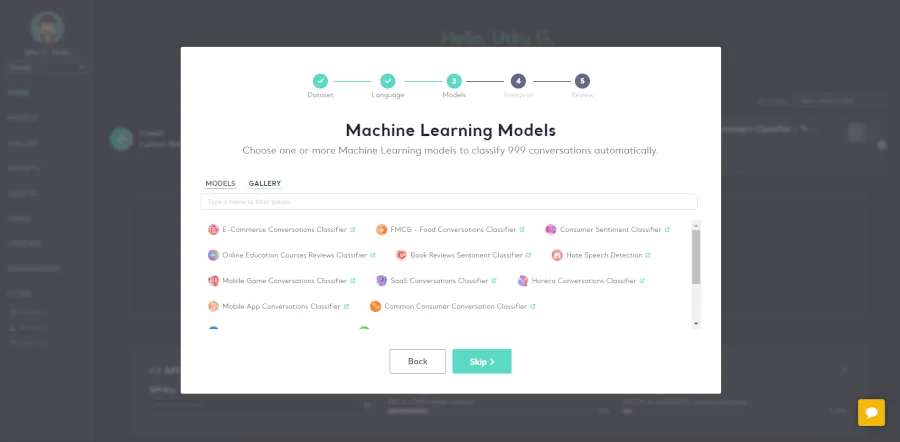 Then, I proceeded to select the generator for a Product Feature List, as that was the focus of this particular project. While there were other options available, such as the Brand Slogan Generator and Positive and Negative Reviews Summary Generator, I chose the Product Feature List Generator for this task.
Let's take a look at the useful product features list generated by the GPT model through the analysis of data performed by Kimola Cognitive:
The things that I liked about these features are:
The list of product features due to the Nintendo Switch reviews is quite positive overall. Customers rave about the system being solid and well-designed, with the excellent video quality. This feedback helps to establish the Nintendo brand as a reliable and high-quality option for gaming consoles. The fact that the system is also versatile and fun reinforces its reputation as a console that can provide entertainment for a wide range of gamers. The positive reviews from newcomers and the ease of set-up suggest that the Nintendo Switch is also user-friendly, which is a strong selling point for any product.
Another interesting feature on the list is the Animal Crossing theme. Customers note that it is "super cute" and perfect for fans of the game. This highlights the importance of catering to niche markets and providing unique features that resonate with specific groups of customers. In addition, the bundle deal is praised as a great value for customers, further enhancing the perceived value of the product.
Overall, the product feature list, according to the Nintendo Switch reviews, demonstrates the importance of quality, versatility, user-friendliness, and value in the gaming console market. Additionally, the importance of catering to niche markets and providing unique features that resonate with specific groups of customers is highlighted as a way to differentiate from competitors.

The Second Test
Brand: Amazon Basics Yoga/Gym Floor Mat
Review details: Scraped 1000 customer reviews from Amazon.com
See and download all customer reviews free: Kimola's Github
A sample of the reviews:
I have selected a floor mat as the second product for which we will generate a feature list based on customer reviews. Amazon's Floor Mat and Nintendo Switch are designed for different target markets with different needs and preferences. The key differences between Nintendo Switch and Amazon's Yoga/Gym Floor Mat lie in their target audiences and unique selling points. Nintendo Switch targets a broader range of gamers, while Amazon's Yoga/Gym Floor Mat focuses on customers with specific needs in the yoga and fitness market. Understanding the target audience and highlighting unique features that appeal to their needs is crucial for successful marketing strategies in both cases. Let's try out Kimola's Product Feature Generator for one of the most-sold Amazon sports products.
The things that I liked about these features are:
It is possible to say that this list can help to identify key marketing strategies that can help position the product in the marketplace. The first feature that stands out is extra thick padding, and it can be emphasized to appeal to customers looking for extra comfort during their workout or yoga practice. This can be further reinforced by highlighting the mat's non-slip surface and supportive cushion for joints, which can increase customer confidence in the product's safety and effectiveness.
Another key feature is the mat's ease of use, including its lightweight design, straps for easy portability, and easy-to-clean and store construction. By emphasizing these benefits, the product can appeal to customers looking for a convenient and hassle-free way to integrate yoga or exercise into their busy lives.
Furthermore, the mat's sleek look and odour-free design can appeal to customers who prioritize style and hygiene. This can be highlighted in marketing materials, along with the product's overall good value for its price point, to appeal to customers looking for a high-quality product at an affordable price.
If you're a marketing professional or a research addict, I'm sure you will see the value Kimola Cognitive creates here. Generating product features based on the customer reviews is one of the newest steps in research market. With this integration, I believe turning data into actionable insights is much easier.
Sign up to Kimola Cognitive to generate your product feature list right away!