Imagine you're shopping at a new online store and trying to find out if they ship to your country. You don't see any information about it on the website, so you start searching around for a contact email or phone number. After digging around for a while, you finally find an email address and send a message asking about shipping to your country. Now you have to wait for a response and might not even get one for a few days.
What is an FAQ?
This is where a good FAQ section comes in. A FAQ is a section on a company's website (or on social media accounts) that answers common questions for customers. It's like a one-stop shop for information! If that store you were shopping at had a FAQ section, you could have found your answer right away without having to search all over the website or wait for a response. Now you're distracted and maybe jumped into another online store, purchased that product from another seller already. Who knows?
Why FAQ is important?
For brands, having a good FAQ section is crucial. It saves customers time and frustration and can even reduce the number of customer service inquiries they receive. Plus, if a customer can't find the information they're looking for, they might get frustrated and leave the website without making a purchase. That's bad news for the brand! If you're a marketing professional who wants to offer the perfect customer journey, I've got you covered!
How to create an effective FAQ?
In this post, I'll be sharing an easy-peasy method for creating an FAQ that'll leave your customers satisfied and informed. It involves using customer feedback to generate a relevant and timely FAQ. So, if you want to save time and create an FAQ list that hits all the right notes, keep reading!
Before we dive in, let me share a little secret with you. Kimola Cognitive is the one and only platform that automates the creation of marketing materials based on customer reviews. With Kimola Cognitive, you can sit back, relax, and watch as your marketing materials practically write themselves. Now that you know the secret, let's get started!
Three Easy Steps to Generate FAQ with AI based on your customer feedback
Want to make your customer feedback work harder for your business? Here's how you can do it with Kimola Cognitive in just three easy steps!
Step 1: Sign up to Kimola Cognitive (Free)
Sign up for a 7-day free trial at kimola.com/cognitive. You don't need any coding skills or credit cards to get started!
Step 2: Scrape customer feedback online
If you're not already collecting customer feedback, no worries! Kimola Cognitive offers a free browser extension that can scrape reviews from popular channels like Amazon, Trustpilot, Capterra, and G2. Check out our tutorials on YouTube to learn how to set it up.
Step 3: Upload your reviews to analyze
Transforming customer feedback into impactful marketing content has never been easier. If you have an Excel file with reviews, simply drag and drop it into Kimola Cognitive's dashboard, select the FAQ Generator, and let the tool do the rest. You'll receive 10 FAQs and answers tailored to your brand's customer feedback in no time!
Why is this better than creating frequently asked questions directly with Chat-GPT?
Preparing FAQs and answers based on customer feedback can be a useful way to address customers' common questions and concerns about a product or service. By reviewing and analyzing customer feedback, you can identify patterns and themes that may indicate areas where customers are experiencing confusion or dissatisfaction. You can then use this information to develop a list of frequently asked questions (FAQ) that directly address these issues. Overall, preparing FAQs and answers based on customer feedback can help improve customer satisfaction and reduce the number of support inquiries by providing customers with quick and easy-to-understand answers to their questions.
Results
I want to help you make the most of this post by sharing my experience. I tried Kimola Cognitive's FAQ Generator on two different products from Amazon.com. By taking into account customer reviews, the tool helped me generate relevant and useful frequently asked questions for our brands. So, let's dive in and get started!
In these results, I didn't generate any FAQ for a brand. What I did is I create an FAQ that's customized to these brands' unique customer reviews. This means if you use Kimola Cognitive, you'll get an FAQ that speaks directly to your customers and their concerns. So, get ready and join me on this wild ride as we dive in together!
The First Use Case
Brand: Water Dental Flosser Cordless for Teeth
Review details: Scraped 1000 customer reviews from Amazon.com
View and download customer reviews: Kimola's Github
A sample of the reviews: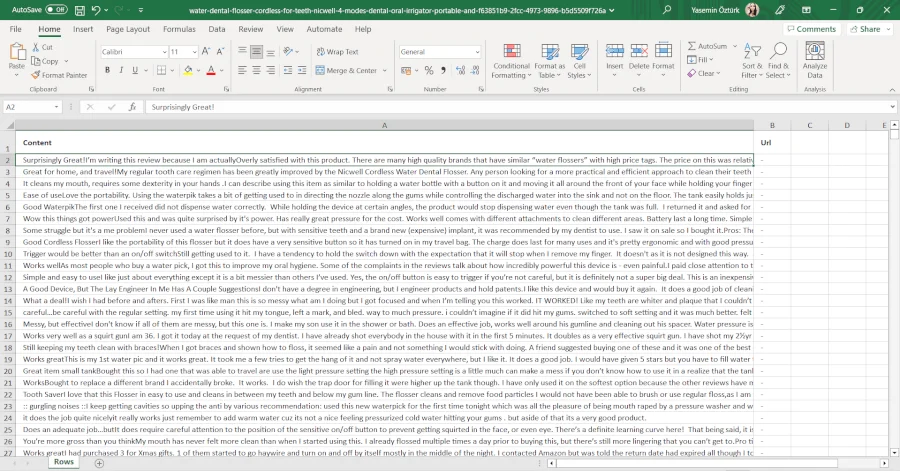 Alright, now we get to the good stuff; I had to do a little bit of "scraping". Luckily, I had a secret tool up my sleeve: a trusty browser extension that came to the rescue. With just one click, this extension automatically scooped up all the juicy reviews from Amazon - I mean, talk about easy peasy lemon squeezy! Also, Kimola has an entire YouTube channel dedicated to helping you become a pro at using this extension. So, whether you're a seasoned pro or a newbie to the game, this extension and Kimola have your back!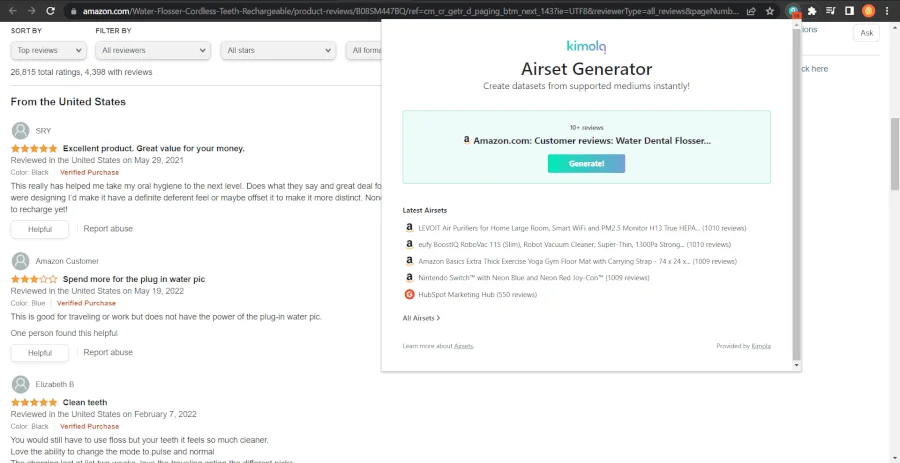 After scraping customer reviews, it was time to upload it to the Kimola Cognitive dashboard. Here we have an amazing walkthrough that wants me to click Next and doing all the things that I should do. On the walkthrough, choosing the review colon was a total piece of cake!
But the real fun began when I reached the models page. It was like being in a candy store with so many classifiers to choose from! And let me tell you, if you want to keep your customers happy and your business thriving, you gotta know what really matters to them - quality, price, logistics, and all that jazz. As Kimola Cognitive comes with those free classifiers, you're allowed to choose 3 of them. Go ahead and choose the ones that is related to your business. (So if you're in banking, you need to choose banking clasiffiers, if you're a company that is selling stuff on e-commerce, than you should go with the E-commerce Classifier.)
That's why I dived straight into the e-commerce and sentiment classifiers. These classifiers helped me figure out what makes my customers tick, their pain points, and what makes them ecstatic. I mean, it's like having a genie in a bottle that grants all your customer satisfaction wishes! And who doesn't want that, am I right?
So, if you're ready to take your business to the next level, just hop on to the Kimola Cognitive dashboard and explore those trusty classifiers.:
Get ready to be the marketing guru of your dreams because the Kimola Cognitive dashboard has got you covered! With so many generator options to choose from, it was hard to pick just one. I mean, we're talking about the Brand Slogan Generator, Social Media Content Generator, and so much more!
But I honed in on the Generating FAQ with the GPT model for the ultimate marketing magic. It helped me create tailor-made FAQs for my brand's unique customer reviews, so I could ensure that I was answering the questions that mattered to my audience.
Kimola Cognitive has analyzed my customer feedback and generated 10 FAQs using the GPT model. Here is the result: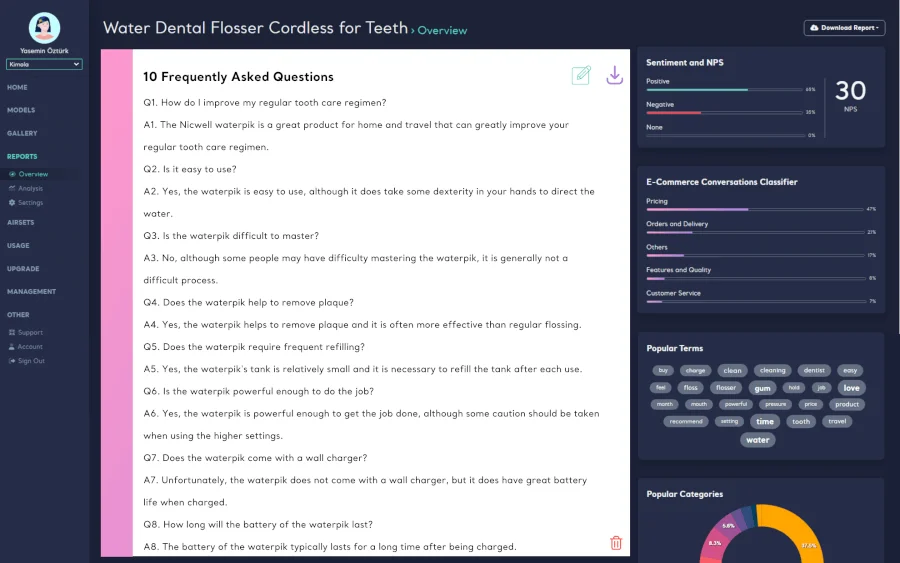 The things that I liked about this output are:
The great thing about creating this FAQ was that it was based on customer reviews. Let me tell you why writing an FAQ based on customer reviews is a game-changer compared to writing an ordinary one. The key difference is that the former is specifically tailored to address the concerns and questions that customers have raised through their reviews. You see, by analyzing customer reviews, brands can get valuable insights into the issues customers are facing and the questions they have about the product or service. And with the magical combination of Kimola Cognitive and the GPT technology, brands can create an FAQ that directly addresses these concerns and provides helpful answers to customers - how cool is that! On the other hand, an ordinary FAQ may be based on general assumptions about what customers might want to know, without specifically considering feedback and comments from real customers. And let's be honest, who wants a boring, cookie-cutter FAQ when you can have one that's personalized and tailored to your specific needs?
What I liked - as a list
Placed dental care as the first question, an important issue for consumers.
Consumers in the market for tooth cleaners tend to prioritize factors such as cleaning performance, ease of use, and product durability. As we examine frequently asked questions, we see that the prominent questions include these topics.
In addition, it appears that highlight in the FAQs aspects such as the charging capabilities and travel suitability of the product, which are also prominent concepts in popular terms like "charge" and "travel" that consumers mention in their reviews.
The Second Use Case
Brand: Samsonite Omni PC Hardside Expandable Luggage with Spinner Wheels
Review details: Scraped 1000 customer reviews from Amazon.com
View and download all customer reviews: Kimola's Github
A sample of the reviews:
This time, we're embarking on a mission to create an FAQ by analyzing customer comments about a luggage. We'll be sifting through all the comments like a bunch of treasure hunters searching for the most valuable nuggets of information.
Now, why are we doing this, you may ask? Well, let me tell you. Luggage is an essential part of travel, and we all know how frustrating it can be when you end up with a bad one. So, to save you from any potential luggage-related nightmares, we will create an FAQ that will help you make an informed decision when choosing the perfect luggage for your next adventure.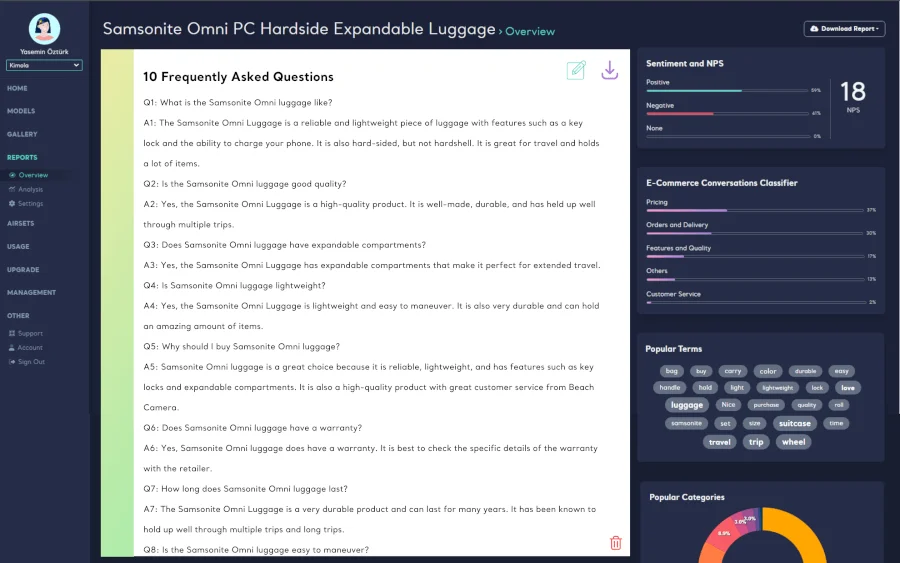 Whether you are a marketing professional or a research enthusiast, you can appreciate Kimola Cognitive's value: This is one of the latest developments in the research market that helps transform data into actionable insights.
Sign up to Kimola Cognitive to generate your product feature list right away!