"What we know is a drop, what we don't know is an ocean." said Isaac Newton. Customer data is like the ocean: just as there are billions of living beings, organisms, different species, and new things can still be discovered in the ocean, customer data also resembles the ocean. You have to go inside and discover and make sense of the connections, and in every sense you find, you realize that it is not over yet, it is a continuation. So, is it possible to explore the ocean -customer data- ? Yes, it is possible! The development of technology has also led to the emergence of many platforms that automatically analyze customer feedback.
One of them, Rapidminer, is featured as the leader text analysis platform on G2, but from my point of view, Rapidminer is not the leader software to analyze customer feedback. If you want to focus on analyzing customer feedback data and extracting valuable insights from it, you're in the right place, reading the best blog post.
On this very detailed post, I'm going to asses the alternatives of RapidMiner considering customer feedback analysis. Here are my five key factors that are important when considering which software to use:
Pricing strategies
Features
Customer reviews
Target markets
Pros and cons of each option
Ability to analyze customer feedback or not
If you're looking for an alternative to RapidMiner to analyze customer feedback, I can assure you that you are in the right place.
What is RapidMiner?
RapidMiner is a software platform that integrates data preparation, machine learning, and predictive model deployment. RapidMiner was founded in 2001 as a data science project at the University of Dortmund.
The key features of RapidMiner are a visual workflow designer, code-based data science, and various machine learning models. In addition, RapidMiner makes complex datasets ready for analysis, visualizes the data, and provides support for the entire team throughout the complete analytics lifecycle. With its various features, it appeals to every user with different levels of experience.
However, RapidMiner is not just a platform for analyzing customer reviews. And according to users, RapidMiner is not easy or cost-effective to use.
TOP 8 Alternatives to RapidMiner
1- Kimola Cognitive (sign up free, no credit cards required!)
2- Chattermill (Sign up free but you can't analyze a single data in free trial)
3- MonkeyLearn
4- Alteryx
5- IBM Watson Studio
6- Forsta
7- KNIME
8- Amazon Comprehend
1- RapidMiner vs. Kimola Cognitive: The Best Solution In The Customer Feedback Area Compared to RapidMiner.
Kimola Cognitive is a user-friendly customer feedback analysis tool that can gather data from various channels like Amazon, Trustpilot, Yelp, Etsy. It can quickly analyze and classify the data, and offers GPT integration to generate executive summaries, product descriptions, and social media themes based on customer feedback. This helps businesses gain insights into their customers' needs and preferences to improve their products and services.
If your main concern is customer feedback, then you may find Kimola Cognitive to be a better alternative to Rapid Miner. This data analytics platform is designed to cater to the needs of market research teams, providing them with a better understanding of their customers and the ability to develop relevant features.
Using Kimola Cognitive, you can accomplish a variety of tasks, including:
Utilize the complimentary browser extension to extract reviews
Develop personalized models by easily dragging and dropping elements, then training AI
Utilize pre-existing classifiers from the extensive gallery to categorize and examine customer feedback
Perform sentiment analysis
View the Net Promoter Score (NPS)
Create detailed reports outlining the customer journey
Identify popular terms and topics from reviews
Search through customer reviews
Create marketing materials through integration with GPT, based on customer reviews.
Kimola Cognitive is a great option if you are looking for an alternative to RapidMiner. It is a data analytics platform specific to customer feedback that allows you to collect feedback from various platforms. With Kimola Cognitive, you can quickly analyze and categorize the data.
In addition, Kimola Cognitive enables its users to generate a diverse range of marketing resources, such as SWOT analysis, product descriptions, and social media themes, all based on customer reviews. With its exceptional user experience and cost-effectiveness, Kimola Cognitive provides great value for money.
Kimola Cognitive Pricing provides a 7-day free trial with no requirement for a credit card in addition to the three available subscription plans. Moreover, customized plans are accessible for bigger companies.
The Basic Plan is priced at $199 per month and includes 10,000 reviews, text analysis, text classification with free pre-built models, web scraping, and an API.
The Standard Plan is priced at $399 per month and offers 35,000 reviews, 2 custom models, text analysis, text classification with free pre-built models, web scraping, an API, and a one-hour onboarding meeting with support available through live chat.
The Professional Plan is priced at $999 per month and includes 100,000 reviews, 10 custom models, text analysis, text classification with free pre-built models, web scraping, an API, and a three-hour onboarding meeting with support available through live chat.
See all the plans and features offered by Kimola Cognitive
Kimola Cognitive Reviews
Kimola has gained 5 tacos from each review on Appsumo.
👍 Pros
Great product that's becoming even more powerful
Kimola Cognitive has been a great find for me. I've purchased and used a few similar products before, but the stand-out features of Kimola (for me) are:
1) The user is always first and foremost: in the design of the product as well as support interactions.
2) Their focus on ease-of-use. Where possible, you only need to make some choices from pre-existing options. ie: click, click, click, go.
3) Pre-existing options for many common use-cases. No need to create any custom models for many use-cases.
4) Simple to create custom models when required ie: when pre-existing ones are not sufficient.
5) Their ENERGY and DESIRE to continually improve their product.
Support is brilliant. That's all.
This desire to improve is quite rare, and I haven't seen it in previous similar products (in fact not in many products at all). This makes me believe that Kimola is a great deal, and once they've finished this round of testing and improvements we won't see them on AppSumo again.....especially not with the current limits.
I have my own use-cases for the insights that Kimola gives, but I can also think of many other ways these insights can be used in many different ways.
The Chrome browser extension is also growing in capability: recently launched on the Chrome store and already able to scrape data such as user-reviews from many websites....which can then easily be processed by Kimola.
My 2c - if you can't think of a use-case....think harder and a little more strategically....there's gold in the hills! Get it, be happy that you've got a super-power in your back-pocket, and pull it out to create magic when you need to ;-)
👎 Cons
Longtime AppSumo buying beast here... Kimola is an interesting tool -- certainly a few holes in their documentation and onboarding, but their customer service makes up for it.
Truly amazing, never-before experienced video support. Much appreciated!
2- RapidMiner vs. Chattermill
Chattermill is a customer insights platform that integrates data from conversations, support tickets, and customer feedback and analyzes it using machine learning to help organizations make sense of their customer experience.
Chattermill offers a more concentrated solution for customer feedback analysis as compared to RapidMiner. A more all-encompassing data science platform for different applications is offered by RapidMiner.
However, Chattermill has 3 downsides according to its users:
1- Pricing plan is not very transparent.
2- Only reviews can be recorded; ratings are not possible.
3- On Chattermill, client feedback updates are not kept track of.
Chattermill Pricing
Unfortunately, Chattermill doesn't provide any plans and pricing on their website, which is not the best way to get users.
Chattermill Reviews
👍 Pros
"Data extraction, as well as being able to filter with tools such as themes and phrases for specific categories. On the recent features, Impact Analysis also helps shareholders understand better what should be acted on."
👎 Cons
"As with all these tools, sometimes I think the accuracy of the interpretation of the message isn't quite helpful. For example we might get a positive "images of the dishes" but I don't know if the positive review is about the images, or about something else and they want images of the dishes. A bit more granularity would be good on how to interpret the sentiment where it's not super clear."
3- RapidMiner vs. MonkeyLearn
MonkeyLearn is a text analysis platform to create customized text classification and extraction analysis by training machine learning models.
Compared to RapidMiner, MonkeyLearn offers a level of flexibility that is instrumental in meeting the diverse needs of clients, the custom capabilities and attention to detail offered by the custom-built reports.
However, MonkeyLearn has 3 downsides according to its users:
1- The pricing is too high.
2- There are only 4 integrations.
3- It is difficult to bucket high volume support ticketing without hands-on management.
MonkeyLearn Pricing
$299 monthly for 10.000 reviews with 3 models
MonkeyLearn Reviews
👍 Pros
"It has great models of text analysis which helps in getting accuracy. The most useful part is the way of integration it has. This is very helpful for business workflows. It has a very good API and it is also well-documented. The best part is that it is user-friendly and very flexible."
👎 Cons
"The ML pricing structure does not alway fit the business budget. Some opportunities are passed because the pricing is too high."
4- RapidMiner vs. Alteryx
Alteryx is a notable supplier of a complete data science and analytics platform for businesses. Alteryx makes it simple for analysts to prepare, collate, and analyze data using a repeatable workflow, then deploy and share analytics at scale for deep insights.
Compared to RapidMiner, Alteryx offers better data analysis for predictive analytics software.
However, Alteryx has 4 downsides according to its users:
1- To help with workflow editing and automation, it lacks an integrated timer.
2- For beginners, the learning curve is quite steep.
3- It takes a lot of time to load and transform the data.
4- It's shown as one of the most powerful competitors but it's not really focused on customer feedback.
Alteryx Pricing
Intelligence Suite: $ 2300
Designer: $ 5195
Data Package - Location Intelligence: $ 11700
Data Package - Consumer Intelligence: $ 33800
All prices are per user, billed annually.
Alteryx Reviews
👍 Pros
"Alteryx is an incredibly approachable platform, made as easy to use as possible. There are many sections of tools that are accessible. I have found that the community is fantastic, and it's become very easy to learn and progress within Alteryx"
👎 Cons
"Some of the more advanced features, macros, apps, run command tool, etc. take a long time to understand. These aren't required to utilize many of the features that Alteryx has to offer but it does limit some people's ability to truly utilize the tool to its full potential"
5- RapidMiner vs. IBM Watson Studio
IBM Watson Studio on IBM Cloud Pak for Data is a leading data science and machine learning solution that helps enterprises accelerate AI-powered digital transformation.
Compared to RapidMiner, IBM Watson Studio offers Integration of IBM Watson APIs such as speech to text, image recognition, personality insights, etc.
SPSS modeler and neural network model provide no-code environments for data scientists to build pipelines quickly. Enforced best-practices set up POCs for deployment in production with a minimum of re-work. Estimator validation lets data scientists test and prove different models.
However, IBM Watson Studio has 3 downsides according to its users:
1- Interface and data limitations can be confusing.
2- Bugs can be hard to fix, and some features are difficult to learn.
3- High switching costs due to low maintenance requirements.
IBM Watson Studio Pricing
Unfortunately, IBM Watson Studio doesn't provide any plans and pricing on their website, which is not the best way to get users.
IBM Watson Studio Reviews
👍 Pros
"By using IBM Watson Studio, I can automate the Machine Learning process to develop accurate, reliable and trained modes of data Algorithms. Generally, I used to integrate with different open-source platforms like Python and TensorFlow & it works pretty well."
👎 Cons
"It should optimize a bit so that the machines consume less ram and could improve the documentation.
6- RapidMiner vs. Forsta
Forsta is a provider of customer experience and research technology solutions to some of the world's most ambitious organizations.
Compared to RapidMiner, Forsta offers a more focused approach on human experience (HX), with features such as messaging and workflow automation that enable businesses to better engage with their customers. It also provides analysis on surveys, which is definitely an advantage for marketing and research professionals.

However, Forsta has 3 downsides according to its users:
1- The limited design options available can make it difficult to personalize the experience.
2- Connecting to third-party databases or servers is not possible.
3- The abundance of settings to choose from can cause a slight decrease in performance, resulting in a slower user experience.
Forsta Pricing
Unfortunately, Forsta doesn't provide any plans and pricing on their website, which is not the best way to get users.
Forsta Reviews
👍 Pros
"Introducing Forsta to our business has been an absolute game changer. Their CX software solution delivers incredible value and provides us with the insights and data that form the foundation of our business strategy. Their software is well-integrated with our applications; it's efficient, easy to use, and provides a great user experience. Their CX consultants offer expert advice and recommendations, and their account managers and technical support team provide excellent and efficient support. I cannot recommend their products and team enough!"
👎 Cons
"I dislike that there is no way to alert us if systems go down. It's not a good look when we are alerted by our clients that the portal is down. I would like better awareness of where the systems stand so we can proactively alert clients."
7- RapidMiner vs. KNIME
The KNIME analytics platform is an open-source software that allows users to access, blend, analyze and visualize data without programming. The low-code, no-code interface provides an easy introduction for beginners and an advanced data science toolset for experienced users.
Compared to RapidMiner, KNIME offers Easy to use without much knowledge of coding,Connection to other languages such as JS, R, Python, etc. Workflow is displayed as connected nodes which makes it easy to troubleshoot and visualize. Open-source. Have a decent size community that supports Q&A.
However, KNIME has 4 downsides comparing to RapidMiner;
1- The options available are limited. Working with unstructured data such as text or image data can be difficult at times.
2- Platform can be challenging to learn and Navigate particularly for the beginners. And Knime sometimes do crash when the processing of the nodes are high. It has some glitch too.
3- I founded it difficult to read data from some typed of Database (eg. Access)
4- Although it's great for data analysis, it's not really great for customer feedback analysis.
KNIME Pricing
KNIME Analytics Platform is 100% free.
KNIME Reviews
👍 Pros
"It's effortless to use for anyone with a business analysis background or minimal code experience. We can create visual workflows which are easy to understand/explain to others. Only advanced excel knowledge or logical/analytical skills are needed."
👎 Cons
"The user interface can be improved; it's not very beginner friendly. It lags sometimes and becomes very slow when working with large files. It takes up a lot of memory just to start the software."
8- RapidMiner vs. Amazon Comprehend
Amazon Comprehend is a service for natural language processing that uses machine learning to find important connections and insights in text.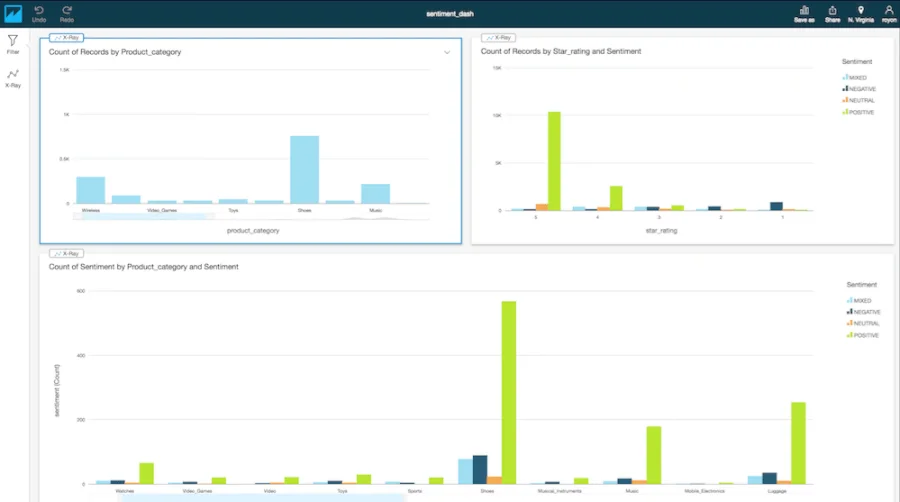 Compared to RapidMiner, Amazon Comprehend offers better ways to meet the needs of their enterprise. But Amazon Comprehend might not be the best solution to analyze customer feedback.
However, Amazon Comprehend has 5 downsides that I'm aware of;
1- Similar languages pose assessment challenges.
2- It's very difficult to customize the model or add self-trained models.
3- Since models are general, the results may not be satisfactory when working with very specific data.
4- Amazon Comprehend is mostly used by enterprises, but it's very expensive when it comes to model usage and data classification.
5- The pricing is very complicated, you can not even understand the pricing before you start.
Amazon Comprehend Pricing
It has different prices for all features For example, NLP requests are measured in units of 100 characters, with a 3 unit (300 character) minimum charge per request.
Amazon Comprehend Reviews
👍 Pros
"Customer emails, support tickets, product reviews, social media, even advertising copy represents insights into customer sentiment that can be put to work for your business. Using Amazon Comprehend we were able to reach our future customers even better. When a new competitor moved into town we had to figure out how to reach the customers better. We were able to figure out what we were doing positively in the customers' eyes and what negative things we needed to figure out."
👎 Cons
"I've disliked that it can take some time to get this product set-up."