Welcome to the digital age, where customer reviews have become one of the most potent marketing aspects for brands! Especially analysing positive and negative customer reviews is essential to developing a successful marketing strategy. Positive reviews can help showcase your brand's strengths, while negative reviews can identify areas for improvement and provide opportunities to address customer complaints.
That's where Kimola Cognitive comes in! With our revolutionary AI-powered solutions, we use natural language processing (NLP) and machine learning algorithms to analyse customer reviews and feedback. With the new integration of GPT, you can transform your analysed data into powerful marketing materials. This will help brands gain a deeper understanding of their customers' sentiments and emotions, allowing them to identify patterns and trends in customer feedback with ease.
By summarising customer reviews, our GPT integration makes it easier for you to develop effective marketing strategies, enhance the customer experience, improve customer satisfaction and loyalty, and boost your brand's reputation and credibility. In this blog post, we'll dive into the importance of analysing positive and negative customer reviews and the benefits it provides to brands. So, buckle up and join us as we explore the power of customer review analysis and how to generate the best summary in minutes just by using GPT technology!
Well, are you looking for an easy way to get the most out of your customer feedback? Look no further than Kimola Cognitive! With just three simple steps, you can transform your customer feedback into valuable insights for your business.
Step 1: Sign up for a free trial
Join us for a 7-day free trial at kimola.com/cognitive, and don't worry - no coding skills or credit cards are required!
Step 2: Gather customer feedback
If you're not already collecting customer feedback, we've got you covered! Use Kimola's free browser extension to extract reviews from popular platforms such as Amazon, TrustPilot, Capterra, and G2. Our YouTube tutorials will guide you through the setup process.
Step 3: Analyse your reviews
Creating effective marketing content from customer feedback has never been simpler. If you have an Excel file with customer feedback, simply drag and drop it onto Kimola Cognitive's dashboard, select the Positive and Negative Reviews Summary Generator, let us analyse it, and the our GPT integration will do the rest. You'll receive a one-paragraph summary of the reviews' sentiments.
Why might this approach be preferable to creating a summary of positive and negative customer reviews directly with Chat-GPT?
Customer feedback analysis is crucial for improving customer satisfaction and business performance, but let's face it, manually going through tons of reviews can be a real snoozefest. Fortunately, with Kimola's text analysis and natural language processing technology, and the GPT integration, we can automate the summarising of positive and negative customer feedback. GPT models have been trained on a huge amount of data, so you can trust its analysis to be efficient, objective, accurate, consistent, and scalable. Basically, it's a game-changer for brands looking to level up their customer feedback analysis game. So, if you want to up your business strategy and make customers even happier, let me show you how I generated a summary of positive and negative reviews in less than 5 minutes.

Results
I'd like to share my experience with the Kimola Cognitive's Positive and Negative Reviews Summary Generator. I recently used this tool to analyse customer reviews for two products from Amazon.com, and was impressed by its ability to provide a clear understanding of the pros and cons of each product. If you're looking for insights to help you understand the purchasing decisions of customers, this tool is definitely worth exploring. Let's dive in and learn more!
The First Case
Brand: eufy BoostIQ RoboVac 11S (Slim), Robot Vacuum Cleaner
Review details: Scraped 1000 customer reviews from Amazon.com
See and download all customer reviews free: Kimola's Github
To give you a sense of what people think, here's a sample of reviews: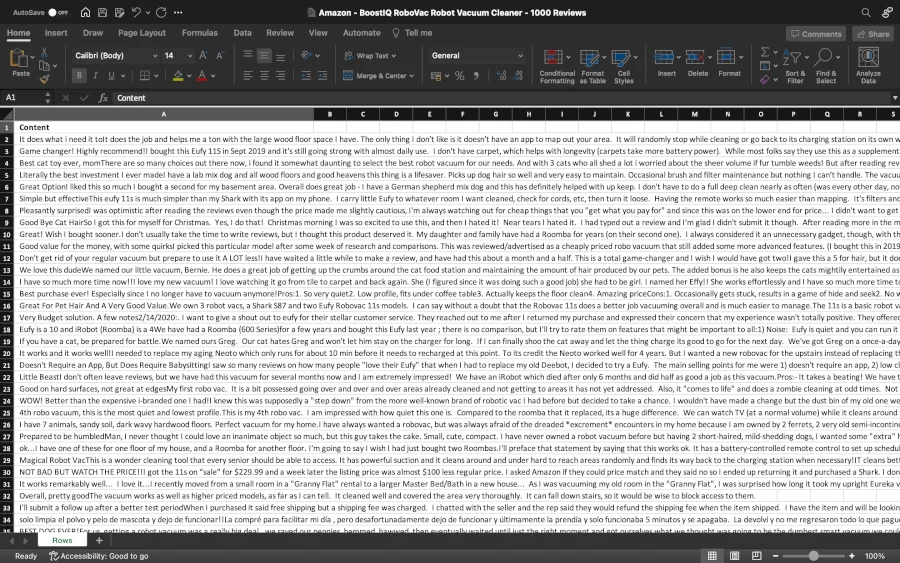 Now, let's delve into the exciting details. It was necessary to conduct some scraping, but I had an essential tool at my disposal: Kimola's browser extension which is so user-friendly. With a single click, this extension automatically gathered all the relevant reviews from Amazon (and much more websites), saving me precious time and effort. Furthermore, Kimola's comprehensive YouTube channel provides priceless guidance on effectively using this extension. So, whether you're an experienced user or a beginner, this extension and Kimola are reliable resources you can count on.
Once the customer reviews were scraped, the next step was to upload them onto the Kimola Cognitive dashboard. The dashboard offers an incredible walkthrough that guides the user through the necessary steps, making it a straightforward process. Selecting the review colon was particularly easy and effortless due to our user-friendly interface.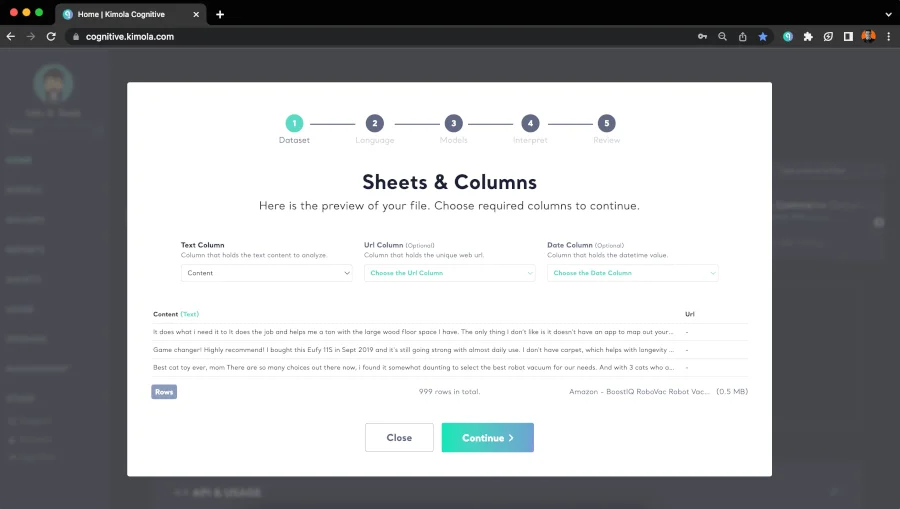 I gotta say that it makes my heart skip a beat - the Kimola Cognitive dashboard! As I was clicking around, I got to the models page, and let me tell you, it was like stumbling upon a treasure trove of insights.
We all know that understanding what makes our customers tick is essential to the growth of our businesses. Luckily, Kimola Cognitive offers a range of free classifiers that you can use to select three relevant to your business needs. Whether you're in the banking industry, e-commerce, or something in between, we've got you covered! For my analysis, I chose the e-commerce and sentiment classifiers, and we'll dive into the results later on! These classifiers gave me a deep understanding of my customers' feedback, pain points, and what makes them over the moon. It felt like I had a direct line to a customer satisfaction wizard who could make anything happen!
So, if you want to take your business ahead from your competitors, I highly recommend checking out the classifiers on the Kimola Cognitive dashboard. With the right classifiers, you can get the inside scoop on your customers and develop a winning business strategy. And let's face it, who doesn't want to be the king or queen of their industry? Get classifier-hunting today!
Not finished yet! Are you ready to be the ultimate marketing guru? Well, guess what - the Kimola Cognitive dashboard has got your back again! With many generator options to choose from, it's like a playground for creatives. We're talking Brand Slogan Generator, Social Media Content Generator, and so much more! Trust me; you'll have a blast picking out which one to use. So get ready to level up your marketing game with Kimola - the first data analytics company to integrate GPT in market research.
I've chosen "Positive and Negative Review Summary Generator" to unlock the ultimate marketing magic. This invaluable prompt enabled me to gain deep insights into the perceptions and emotions of users towards the product I selected for our first case.
Let's take a look at the useful pros and cons summary generated by the GPT model through the analysis of data performed by Kimola Cognitive:
The things that I liked about this summary is:
When I examine the summary generated by the GPT model, I can possibly say that sentiment surrounding the Eufy 11S robot vacuum is overwhelmingly positive. Customers love its quiet operation, effectiveness at picking up pet hair and dirt, and value for money. We can leverage these strengths in our marketing strategy, targeting pet owners and those with hardwood floors or lots of dirt in their homes. We can develop a marketing strategy that focuses on the product's strengths and resonates with our target audience. Here are a few ideas:
Leverage social media: We can use social media to showcase the Eufy 11S in action, demonstrating its effectiveness at picking up pet hair and dirt and setting up and using it. We can also encourage customers to share their own experiences with the product, building brand loyalty and trust.
Offer promotions: To encourage customers to try the Eufy 11S, we can offer promotions such as discounts or free trials. This can help attract new customers and generate buzz around the product.
Engage with customers: To address concerns about reliability and customer service, we can proactively engage with customers and respond to their feedback. This can help build trust and demonstrate that we value our customers' opinions and experiences.
The Second Test
Brand: LEVOIT Air Purifiers for Home Large Room
Review details: Scraped 1000 customer reviews from Amazon.com
See and download all customer reviews free: Kimola's Github
Here are some reviews that can help you get a feel for what people are saying: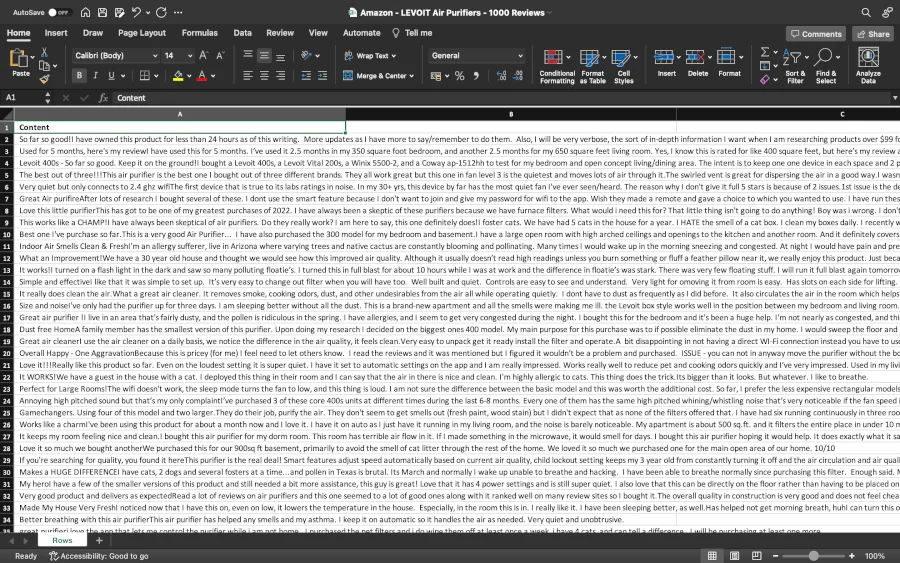 I have selected an air purifier as the second product for which we will generate a feature list based on customer reviews because a robot vacuum cleaner and an air purifier are two different products that cater to different needs of customers. A robot vacuum cleaner is marketed as a time-saving and convenient device that helps in cleaning floors automatically without much human intervention. On the other hand, an air purifier is marketed as a health-oriented device that helps in removing harmful particles and pollutants from the air, ensuring a cleaner and healthier indoor environment. While both devices may share some common features like automation and convenience, they serve different purposes and have different marketing messages to target different customer needs.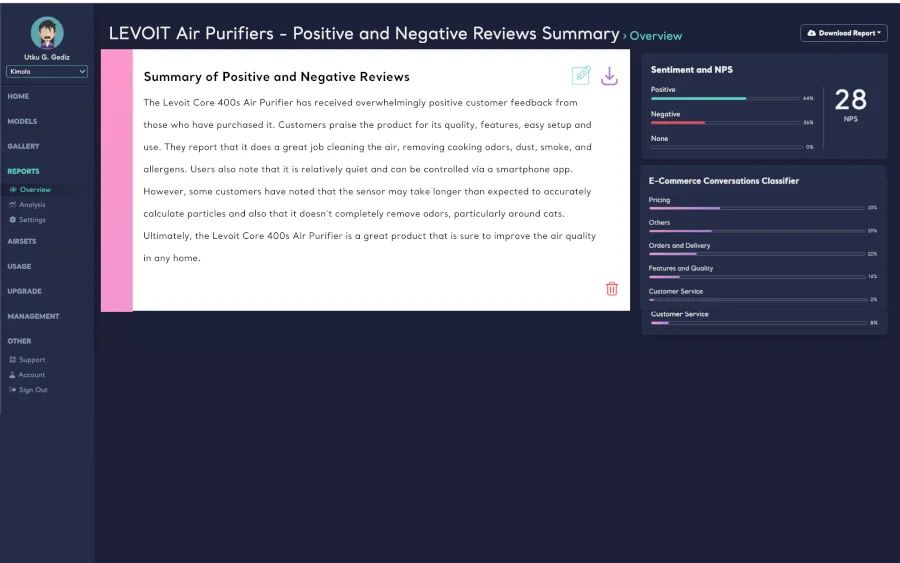 The things that I liked about these features are:
In this case of the Levoit Core 400s Air Purifier, the strongly positive customer feedback is a valuable asset that can be used to sell the device. Marketers may build messaging that resonates with potential consumers by emphasising the purifier's quality, features, and convenience of use, as well as its capacity to successfully remove common pollutants and allergens from the air. Here are a few recommendations for your marketing strategy:
Highlight the positives: We can use the overwhelmingly positive customer feedback to showcase the strengths of the product, such as its high-quality build, easy setup and use, and its effectiveness in removing common pollutants from the air. We can also use specific customer feedback to support these claims and build trust with potential buyers.
Address the cons: We should be transparent about the limitations of the product, such as the delayed sensor readings and its ability to remove certain odors. By doing so, we can manage customer expectations and position the product as a reliable and effective solution for common air quality concerns.
Leverage the benefits: We can emphasize the convenience and control offered by the smartphone app, as well as the relatively quiet operation of the purifier. By highlighting these benefits, we can differentiate the product from competitors and appeal to potential buyers who prioritize ease of use and convenience.
If you're a marketing professional or a research addict, I'm sure you will see the value Kimola Cognitive creates here. Generating product features based on the customer reviews is one of the newest steps in research market. With this integration, I believe turning data into actionable insights is much easier.
Sign up to Kimola Cognitive to generate your product feature list right away!