Customer feedback is essential to provide valuable insights into customers' preferences, expectations, and experiences. These insights help in the development of a product, improvements to existing ones, and making informed business decisions. When it comes to a fashion store, analyzing customer feedback is crucial to gaining a deeper understanding of customers' preferences and motivations. Their preferences and experiences of clothes colors, fabrics, stylish design, storefront display, store layout, dressing rooms, staff attitude, customer service, checkout, and more. Through customer feedback analysis, fashion stores can uncover valuable insights that shed light on the key factors influencing customers' purchasing decisions.
I know that marketing research is not easy, but we need to understand our customers while establishing and managing a company. In this article, I will show you how to do market research for a fashion store with just a few clicks, without signing up for anything or spending money & budget.
Even though you have never asked for reviews from your customers, they might be criticizing you or your competitors on Trustpilot, and I'm telling you that this is a goldmine for you to leverage customer feedback. So how can you cover fashion stores on Trustpilot and understand what is essential to fashion store customers?
There are many tools out there to scrape reviews from Trustpilot and analyze them, but this solution needs no sign-ups, no credit-cards. All you need is the link to the fashion stores you want to analyze, and here is the good news: There are more than 10,000 fashion stores on Trustpilot, and the average review count is 567. In Trustpilot, you can see the reviews of customers with filtering options, in which languages these reviews are written, and how customers rate this store. In addition, it is possible to see the most common words related to fashion stores, such as price, size, order, time, experience, quality, and style, but it doesn't offer overall customer feedback! The easiest and best way to analyze these Trustpilot reviews is to use Kimola's free research tool.

How To Scrape and Analyze Trustpilot Reviews ( A Step-by-Step Guide)
All you need to find links of your competitors on Trustpilot
Then paste it into the box and click start
Wait for a couple of minutes
>Finally, view the report
An Example of a fashion store on Trustpilot: Parasol Store Customer Feedback Analysis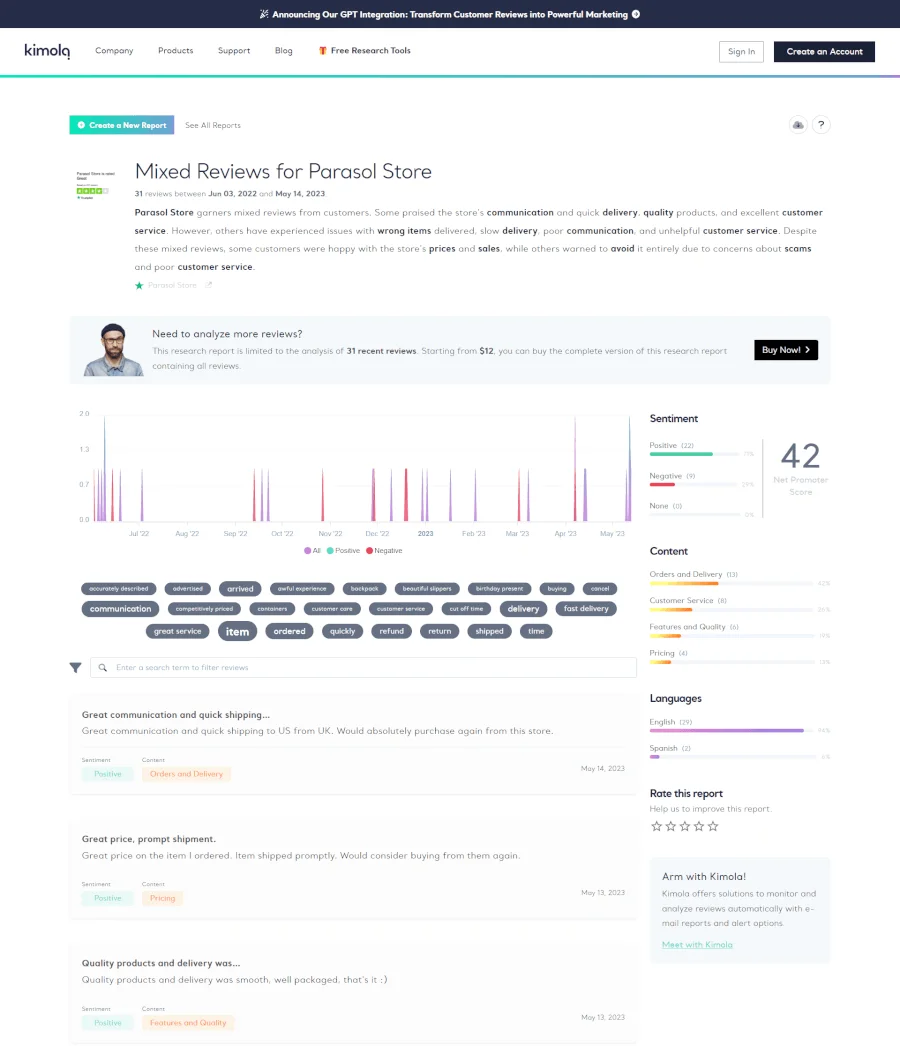 When the analysis is complete, you will see a comprehensive report based on the competitor's Trustpilot reviews. Liked what you see? Click here to conduct your own analysis.