In the cinematic universe, many genres have specific audiences, and you can tell what type of person someone is by just asking their favorite movies. When it comes to Zombie movies, it is hard to understand, and we can't relate to what type of personality that person has. So, we wanted to dive deep into this vague topic.
As a start, we had three primary questions for analyzing and segmenting the zombie movies audience:
Who is watching it?
Why are they watching it?
How do they feel when they watch it?
The Methodology
Kimola's Social Research Platform gathers conversations, segments them, and after the segmentation, our AI profiles the groups to see their demographics and lifestyle.
We gathered 1266 Conversations about Zombie Movies in 1 week, and we chose %43 of the conversations to segment them. After collecting the conversations and segmenting them, we profiled the segments separately. Check our consumer segmentation analysis below!
Results
The results of the consumer segmentation didn't surprise us a lot, but there is one segment that warmed our hearts and put some tears on our cheeks.
1- Realists: Feeling Angry
Young Adult Females who are mad about everything around them.
We all know this segment. These people tend to get angry about the main characters or weak characters in a TV Show when the character dies or gets hurt. This group consists of 19% of the audience and is mostly females around 25-26 years old, who feel mad, bored, annoyed, and angry. They like criticizing the movies they watch. Also, they are looking for a real zombie show without clichés. These people are even comparing the scenarios like it's happening in real life, and they appreciate intelligent characters.
The dominant interests for this particular audience are Literature, Science, and Cinema.
They interact with brands such as Netflix, Dropbox, Chick-fil-A, Citi Bank, and Saucony.
Their favorite TV shows are Game of Thrones, Ellen DeGeneres Show, Last Week Tonight with John Oliver (did we mention that they love criticizing?), Walking Dead, and Supernatural.
Quote from a Realist:
I hate in zombie shows when slmsome they care is about to get infected and they take too long to kill them like ITS NOT UR GF ANYMORE SHOOT HER WTF.
2- Gurus: Feeling Admiration
Young adult males who think that their opinions matter too much in the world.
Gurus is the dominant group, with 60% of the total audience, and the majority is 26 years old males. They generally feel curiosity, admiration, and approval. These people are the ones who like to refer good shows and talk about their opinions. They want to stay up-to-date, and they always comment on new movies and TV series. They strongly believe in their views, and they like discussing the things they know. They can be considered as expert or enthusiast, obsessed with a hobby.
The dominant interests for this group are Gaming (Computer+Mobile Games) Sports, Cinema and Science.
They interact with brands such as Netflix, Amazon Prime, Youtube, CBC, Nike.
Their favorite TV shows are Game of Thrones, The Walking Dead, Doctor Who, Peaky Blinders, and Outlanders.
Quote from a Guru:
What The Walking Dead should have been... This new Zombie series on Netflix - Black Summer - is incredible. The pacing and directing is 10/10, and the zombies actually feel like a real threat. I almost binged the whole series in one night. A MUST if you like zombies.
3- Adrenaline Addicts: Feeling Excitement
Middle-age males who are trying to rest their heads from work.
This group consists of 18% of the audience, and the dominant gender is male, and the dominant age is 38+ years old. They feel excited, thrilled, and stressed. This audience is addicted to adrenaline, and they are admitting it. They are after an action, excitement, and even stress. They like drama and violence. We guess this audience works a lot and TV Series about mysteries help them to rest their head.
This group is interested in Cinema, Technology, Pets, Humor and Civil Society.
They interact with brands such as Netflix, Apple, Safeway, Ritz Carlton, and Apple TV.
Their favorite TV Shows are Black Mirror, The Twilight Zone, Inside the NFL, The Mindy Project, Z Nation, and The X-Files.
Quote from a Stress Addict:
I completely understand this headline about #BlackSummer from @TheSun: Netflix fans say new zombie series Black Summer is 'the most stressful experience' – and BETTER than The Walking Dead
4- Teens and Moms: Feeling Connected
Moms, watching zombie movies to connect with their children to spend quality time together to bond.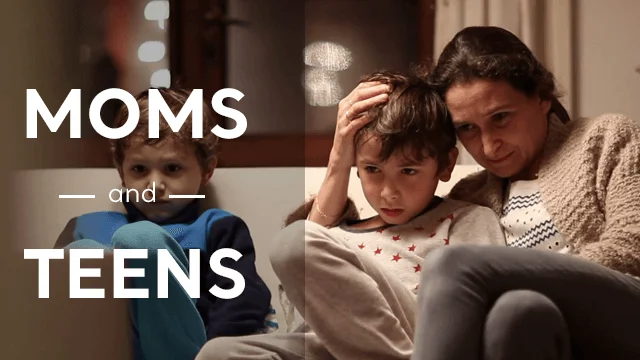 This segment is fascinating and we are amazed to see that even customer segmentation can pull up sharp insights. This audience is only 3% of the total audience, and as you can imagine, there are 2 segments; Moms & Teens, who enjoy watching zombie shows together. The main reason to watch zombie movies together is that they are scaring together and Moms are feeling more connected with their kids.
On the other side, some teens think that their moms & dads are "the coolest ones!" because they are watching Zombie movies.
Interests of Teens & Moms are Gaming, Humor, Music, E-shopping, and Literature.
Favorite brands of Teens & Moms are Netflix, Wendy's, Old Navy H&M, and Hulu.
Favorite TV Shows of Teens & Moms are Ellen DeGeneres Show, Rick and Morty, Bill Nye Saves The World, The Mick and Magicians.
There is a mix of brands and TV shows because the users are teenagers and moms combined.
Quote from a Mom:
Awe yay my son is going to completely freak out! He loves the zombie movie I can't even tell you how many times we've watched it now.
Do You Have Any Questions? Feel Free to Contact Us!
If you'd like to know more about Kimola's Social Research Platform, please feel free to ask us. You can always reach to us via Contact Sales Page, or you can book a call via Calendly.