Nowadays, there are thousands of productivity apps in digital marketplaces such as Google Play Store and App Store. These apps have emerged as essential tools in the quest for increased productivity and effective task management such as notepad, to-do list, calendar, backup, calculator, keyboard, printing, conversation and more. What if we told you that the reviews of productivity apps contain a veritable treasure trove of consumer insight and feedback? By analyzing the reviews and feedback of productivity apps, businesses can gain valuable insights into what their customers are looking for in terms of task management and productivity apps. These insights can then be used to develop new and improved products that better meet the needs of their target audience.
Additionally, by monitoring app reviews, businesses can quickly identify any issues or bugs that may be impacting the user experience and take steps to address them. This not only helps to improve customer satisfaction but also ensures that businesses are providing high-quality products that are both efficient and effective. So if you're looking to stay ahead of the competition in the productivity app space, be sure to tap into the wealth of information available through customer reviews and feedback. In this blog, we delve into the importance of analyzing productivity app reviews and how they can provide valuable insights for customer research and feedback loops.
There are 98798 productivity applications available on the Google Play Store, and users leave hundreds of comments every day. While there are many tools available for scraping and analyzing app reviews, finding the right one can be challenging especially for app developers. At this point, I have a solution where you can analyze user comments easily and quickly. Moreover, this solution does not require registration or credit card from you. Additionally, you can use this tool for both Google Play Store and App Store.
With Kimola's tool, you can unlock valuable insights, understand user sentiments, and make informed decisions to enhance productivity app offerings.
How To Scrape and Analyze Productivity Apps Reviews on Google Play Store or App Store (A Step-by-Step Guide)
Here is the user review analysis of ChatGPT - Nova AI on Google Play Store: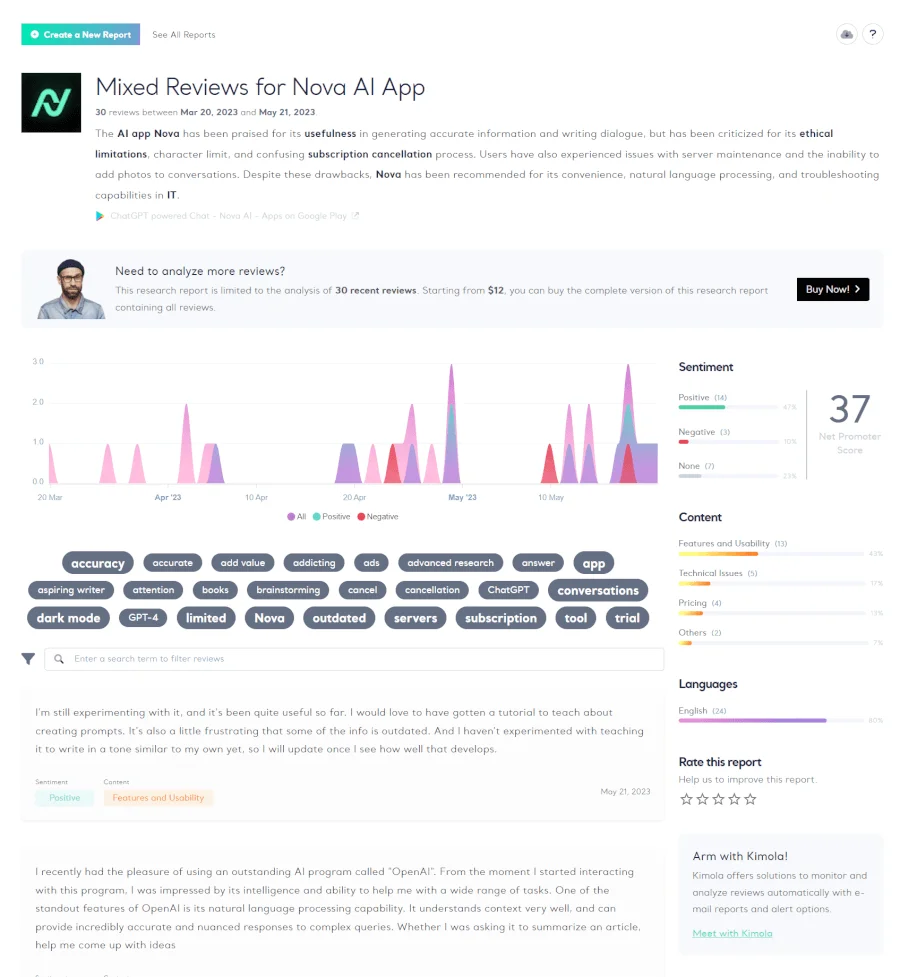 When the analysis is complete, you will see a comprehensive report based on the users reviews. In this report, you can see the rate of positive and negative reviews, categorization of customer reviews, Net Promoter Score for the reviews, and more!