Feedback, reviews and ratings provided by customers are vital to increase the recognition of businesses and strengthen their marketing strategies. These reviews and ratings allow people to showcase their opinions about stores, which can positively or negatively impact potential customers. While good reviews are critical in attracting new customers, even a single negative review risks losing many customers. When it comes to jewellery stores and buying jewellery online, there is a trust treshold that businesses need to acquire. And for that treshold, customer reviews are the real source.

Even though you know that you're targeting "woman" as a jewellery store (and maybe man, to help them choose the best gift for their girlfriend, mum or wife!), you must know the insights of the market. Here are some steps to start a jewelry company and become a successful business:
Do good market research (How? In this article, I'll show how to start your research for free!)
Determine the target audience (Well, diamonds are a girl's best friend, aren't they?)
Be creative and original with your products and designs
If you are going to open a physical store, choose a good location; if you are going to continue online, pay attention to the website's professionalism.
Be attentive to customer service.
Develop an effective marketing strategy to market your products and increase your brand awareness using social media, content marketing and other digital channels.
The jewelry industry is competitive, so focusing on quality, uniqueness, and customer satisfaction can impact your success. These steps will help you get good customer feedback and make your business stand out. However, before doing all this, you should analyze your competitors' comments in the exact location to understand the expectations of your potential customers. Let's take a step now and start with customer feedback analysis. I want to show you the easiest way to analyze Trustpilot reviews: Kimola's Trustpilot Review Analyzer.
How to Analyze Trustpilot reviews in 3 easy steps?
Go to ''Trustpilot Review Analyzer'' at kimola.com
Copy Trustpilot link of the business you would like to analyze
Paste the link into Kimola's search box and click Start.
It's that easy.
For this report, three jewelry businesses were reviewed on Trustpilot and their customer reviews were analyzed with Kimola's free research tool. Now, let's jump to the quick analysis.
Quick Analysis: Customer Review Report for 3 Hot Jewellery Stores on Trustpilot
1.Brian Gavin Diamonds
Brian Gavin Diamonds offers a range of affordable prices to cater for a range of budgets whilst providing gorgeous and unique diamond designs. Customers speak with great satisfaction about Cape diamonds' impressive colors and brilliance.
2.Green Lake Jewelry
Green Lake Jewelry receives rave reviews for its exceptional customer service, expert designers and high-quality custom designs. Overall, Green Lake Jewelry is wholly commendable for its professionalism, creativity and impeccable craftsmanship.
3.Rebel Nell
Rebel Nell is a women-owned social enterprise providing job opportunities, equality and comprehensive support to women with disabilities. They strive to encourage women, support the unlimited power within them, and help them shape their own future.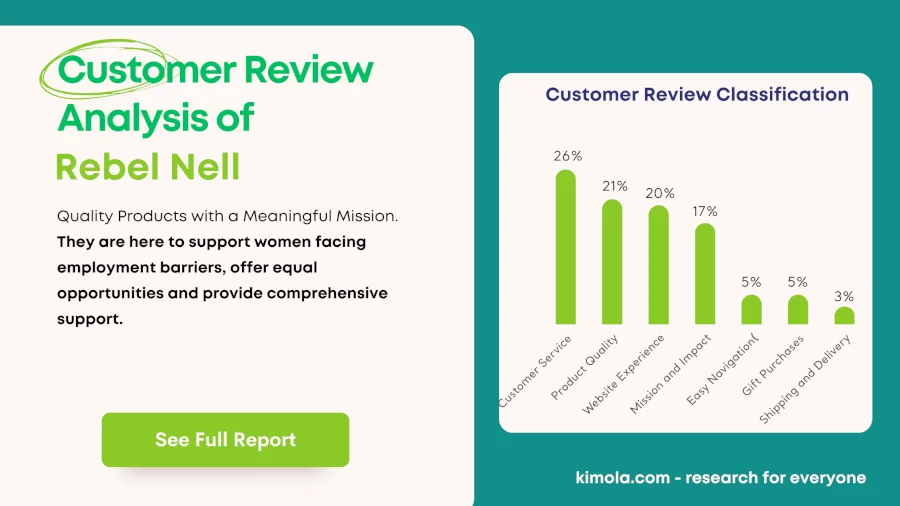 Comparison of the Mentioned Jewelry Businesses
When we compare businesses based on customer feedback, the most critical factor emerges as "customer service," according to the data. The service offered, and the attention shown to the customer gained customer satisfaction, and they did not hesitate to reflect this in their comments. In this way, customer service plays a front and critical role. Another important factor is "product quality". Customers say that the products offered are satisfactory in beauty and quality and that they have become permanent customers of the businesses.
Now let's take a look at the features that make these places unique:
Brian Gavin Diamonds stands out with its customer service and product satisfaction. Customers have been delighted with the quality of their diamonds, their wide assortment and customization options. Additionally, Brian Gavin Diamonds' successful online shopping experience is highly appreciated by customers and has become their repeat shopping choice.
Green Lake Jewelry has an excellent reputation for its exclusive designs. Customers highly appreciate the high quality and these features are frequently emphasized in customer comments. In addition, the care and attention shown in the repair process, as well as customer service, make this business attractive to customers with both its products and services. Customers love both their products and services.
Rebel Nell stands out not only in quality and service but also in its website experience. Customers highly appreciate the website's ease of use and product range; Customers often highlight these features in their comments. In addition, the easy and fast delivery service is also highly appreciated. This business also stands out with its mission and vision.
General Conclusion
The advantages of today's technology have increased people's tendency to rely on reviews when choosing a place to shop. That's why online reviews and, if a business sells online, the services offered are critical. To be the first choice for their customers, companies must provide excellent service in both their online experiences and physical store visits.
In jewellery store customer review data, what we're seeing is that customers or potential customers often need to talk to someone. So, you should build that customer support team that will listen, reply and manage the client relationship.
The other thing that is coming forward is the custom design & product quality. Since your target group wants to pay a lot of money for a product by purchasing online, we can't blame them for being suspicious about quality. As a jewellery brand, you should remember to bring all your sources to be seem as trustworthy as you are -and you should mention your unique designs.
Finally, we all know that jewellery customers need repair services eventually, so don't forget to add this service to your website and make the process easy for your customers.
Want to analyze your own store's Trustpilot reviews? Here you go: Kimola's Trustpilot Review Analyzer